Get Your Sparkle On!
Ending the year on a high note, Author Bettye Griffin and I collaborated on a quartet (4 enovellas) - our theme- Get your Sparkle on this magical holiday season. The anthology is titled the Holiday Sparkle Series. Each enovella centers on a special dress that has the ability to change the heroine's life.

First up is Bettye Griffin's LOVE ON LAKE SHORE DRIVE. It's a Thanksgiving wedding story. You can order it on You can download a copy on Amazon and Barnes and Noble.

Next up, with a scheduled release today, December 5th, is my offering, NAUGHTY IN NEW YORK, currently available for order on Amazon here. It's a second chance at love story, and setting is New York.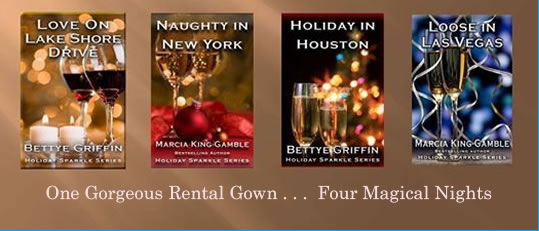 Here's a sound bite of what's to come:

Theodora Johnston is Vice President of Sales and Marketing for Beau Visage; a major cosmetic house. Theo has sacrificed a personal life for her career. But with her biological clock now ticking, she is seriously considering having a baby.

Almost two decades ago, her parents were killed in a plane crash and the holidays are a difficult time. Theo is obligated to attend the executive party on Long Island, New York, and her assistant has rented her a dress; one she considers unsuitable.

Anderson MacDonald is the newly appointed COO; a man Theo had a love affair with ages ago. He just might be the guy to make that baby happen. But Anderson is her new boss and there's some major baggage that needs to be stowed before that happens.
Yet More Sparkle

Following that, are Bettye's HOLIDAY IN HOUSTON and my LOOSE IN LAS VEGAS.

We hope that our four enovella offering will help get you into the spirit of this magical season.

To your best holiday ever! Wishing you an abundance of health, happiness, and love!

Get your Sparkle on!


Romantically Yours,




Marcia King-Gamble
Editor -- Romantically Yours
www.lovemarcia.com